The FMCG Business Model Canvas Days are rated with an 8.5! We are glad to see that the 2-day training program meets the needs of the participants. Read more about the level of satisfaction and watch the testimonials.
Rating FMCG Business Model Canvas Days
The infographic below shows a summary of the participants' satisfaction. The FMCG professionals are very inspired by the speakers, which was assessed with a 9.5. They also liked that there were lots of opportunities to network (8.5).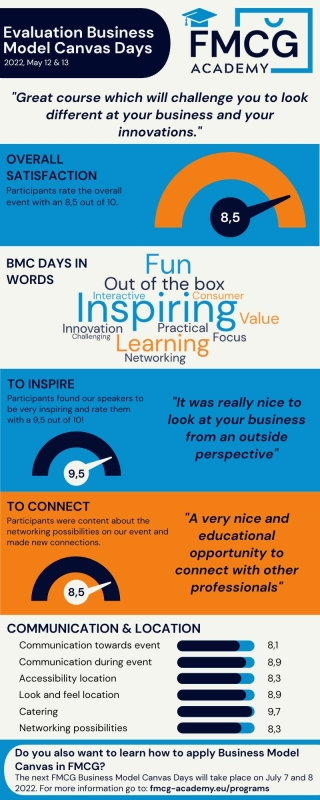 Room for improvement
Continuous improvement is one of our core values. We are therefore glad that participants have provided points for improvement. Based on this, we will make subtle changes to the content of the FMCG Business Model Canvas Days. For example, a case study will be added, so that participants learn to work even better with the business model canvas. We will also expand the network options.
Reviews FMCG Business Model Canvas Days
Are you curious about the experiences of FMCG professionals with the FMCG Business Model Canvas Days? Watch the testimonials of Jeanne Braaksma (Ausnutria), Paul Standaart (Cloetta) and Nadine Schutrups (SignatureFoods).
Want to join too?
Do you also want to learn how to apply business model canvas in FMCG, in order to break through patterns in your innovation processes? Follow this 2-day program on July 7 and 8. There is a limited number of places available. Enroll now!